isquare_ezycheque_standard_3:user_guide:1_ezycheque_at_a_glance
Table of Contents

Overview
iSquare ezyCheque Standard Edition 3 is a cheque writing solution software. It gives accountants and business owners a simple and efficient way to manage payment by cheques. iSquare ezyCheque Standard Edition 3 automate cheque printing, payment vouchers printing, bulk printing, and payments tracking.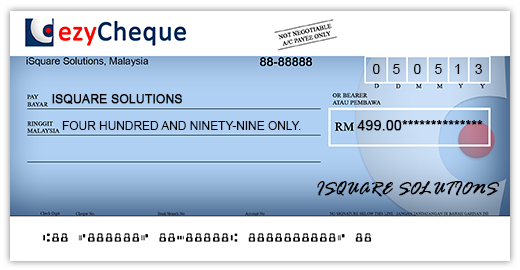 Benefits and Features
Issue cheques in seconds. Automatic save payee's name and conversion from number to words.

Eliminate payee's name and amount in words spelling mistake.

Enhance cheque's security and reduce cheque fraud.

Print payment vouchers. Automatic save payment details.

Print reports.

Bulk printing for cheques and payment vouchers.

Support multiple companies.

Security to protect your company data.

Backup and restore database.
Printer Requirement
System Requirement
Operating System Requirements
iSquare ezyCheque is a Windows-based application that only runs on Microsoft Windows operating system. Below is the supported operating systems:
Microsoft ® Windows ® 8, Pro, Enterprise

Microsoft ® Windows ® 7 Home Premium, Professional, Ultimate

Microsoft ® Windows ® Vista, Home Basic, Home Premium, Business or Ultimate

Microsoft Windows XP, Home or Professional Edition (Service Pack 2)
Additional software and framework requires to run iSquare ezyCheque:
Hardware Requirements
Below is the minimum hardware requirements to run iSquare ezyCheque:
Processor: 400 MHz Pentium processor or equivalent (Minimum); 1GHz Pentium processor or equivalent (Recommended)

RAM: 96 MB (Minimum); 256 MB (Recommended)

Hard Disk: Up to 500 MB of available space may be required

CD or DVD Drive: Not required

Display: 800 x 600, 256 colors (Minimum); 1024 x 768 high color, 32-bit (Recommended)
isquare_ezycheque_standard_3/user_guide/1_ezycheque_at_a_glance.txt · Last modified: 2015/10/21 03:14 (external edit)